History
Unofficial history dates St Nicholas from 1100 AD. There is good reason to suggest the first established building dates from around 800, although there was possibly a smaller 'cell' on site before this time. There is photographic evidence of an early supporting wall under floorboards in the Nave. Major renovations to parts of the building were undertaken in 1863.
The high East arch dates from the 14th C, the Font of the same period; having been brought from Stogursey Church nearby which is mentioned in the '1000 Churches of England' book.
Six biblical texts decorate the arches and East wall. The dominant feature is a splendid Reredos with five panels. Each panel celebrates an age group: The Nativity - infancy, Christ with the Elders in the Temple, a youthful 'Christ the Worker' with mallet in hand, driving the Money-Lenders out of the Temple, and Burial following the Crucifixion.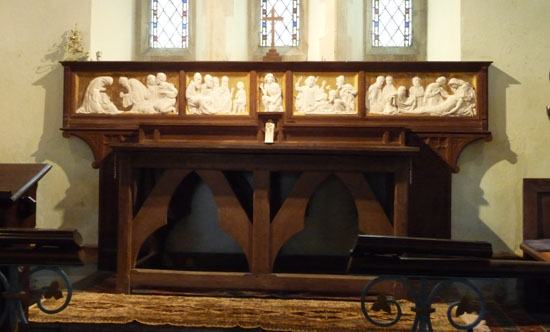 There is a simple beauty to the whole interior of St Nicholas and many visitors have commented on the peaceful atmosphere and stillness that may be found within.
Now available by post or on site

'Stories and Soliloquies' by Agnes M M Chilcott.
Stolford born, Mud Horse Fisherman's daughter, devoted sister, hard working mother and much loved Nan. Poems and reflections from the life of the time 1894 – 1985.

£2.50 + pp 60p. from St Nicholas Wayfarers Church Kilton Somerset TA5 1ST